On this day in Bolivia...
Socialist revolutionary and guerilla leader Che Guevara, age 39, is killed by the Bolivian army. The U.S.-military-backed Bolivian forces captured Guevara on October 8 while battling his band of guerillas in Bolivia and assassinated him the following day...
..Félix Rodríguez, a Cuban exile turned CIA Special Activities Division operative, advised Bolivian troops during the hunt for Guevara in Bolivia. In addition, the 2007 documentary My Enemy's Enemy alleges that Nazi war criminal Klaus Barbie advised and possibly helped the CIA orchestrate Guevara's eventual capture.
On October 7, 1967, an informant apprised the Bolivian Special Forces of the location of Guevara's guerrilla encampment in the Yuro ravine. On the morning of October 8, they encircled the area with two battalions numbering 1,800 soldiers and advanced into the ravine triggering a battle where Guevara was wounded and taken prisoner while leading a detachment with Simeón Cuba Sarabia. Che biographer Jon Lee Anderson reports Bolivian Sergeant Bernardino Huanca's account: that as the Bolivian Rangers approached, a twice-wounded Guevara, his gun rendered useless, threw up his arms in surrender and shouted to the soldiers: "
Do not shoot! I am Che Guevara and I am worth more to you alive than dead
."
Guevara was tied up and taken to a dilapidated mud schoolhouse in the nearby village of La Higuera on the evening of October 8. For the next half day, Guevara refused to be interrogated by Bolivian officers and would only speak quietly to Bolivian soldiers. One of those Bolivian soldiers, a helicopter pilot named Jaime Nino de Guzman, describes Che as looking "dreadful". According to Guzman, Guevara was shot through the right calf, his hair was matted with dirt, his clothes were shredded, and his feet were covered in rough leather sheaths. Despite his haggard appearance, he recounts that "Che held his head high, looked everyone straight in the eyes and asked only for something to smoke." De Guzman states that he "took pity" and gave him a small bag of tobacco for his pipe, and that Guevara then smiled and thanked him.
Later on the night of October 8, Guevara—despite having his hands tied—kicked a Bolivian army officer, named Captain Espinosa, against a wall after the officer entered the schoolhouse and tried to snatch Guevara's pipe from his mouth as a souvenir while he was still smoking it. In another instance of defiance, Guevara spat in the face of Bolivian Rear Admiral Ugarteche, who attempted to question Guevara a few hours before his execution.
The following morning on October 9, Guevara asked to see the school teacher of the village, a 22-year-old woman named Julia Cortez. Cortez would later state that she found Guevara to be an "agreeable looking man with a soft and ironic glance" and that during their conversation she found herself "unable to look him in the eye" because his "gaze was unbearable, piercing, and so tranquil". During their short conversation, Guevara pointed out to Cortez the poor condition of the schoolhouse, stating that it was "anti-pedagogical" to expect campesino students to be educated there, while "government officials drive Mercedes cars", and declaring "
that's what we are fighting against
."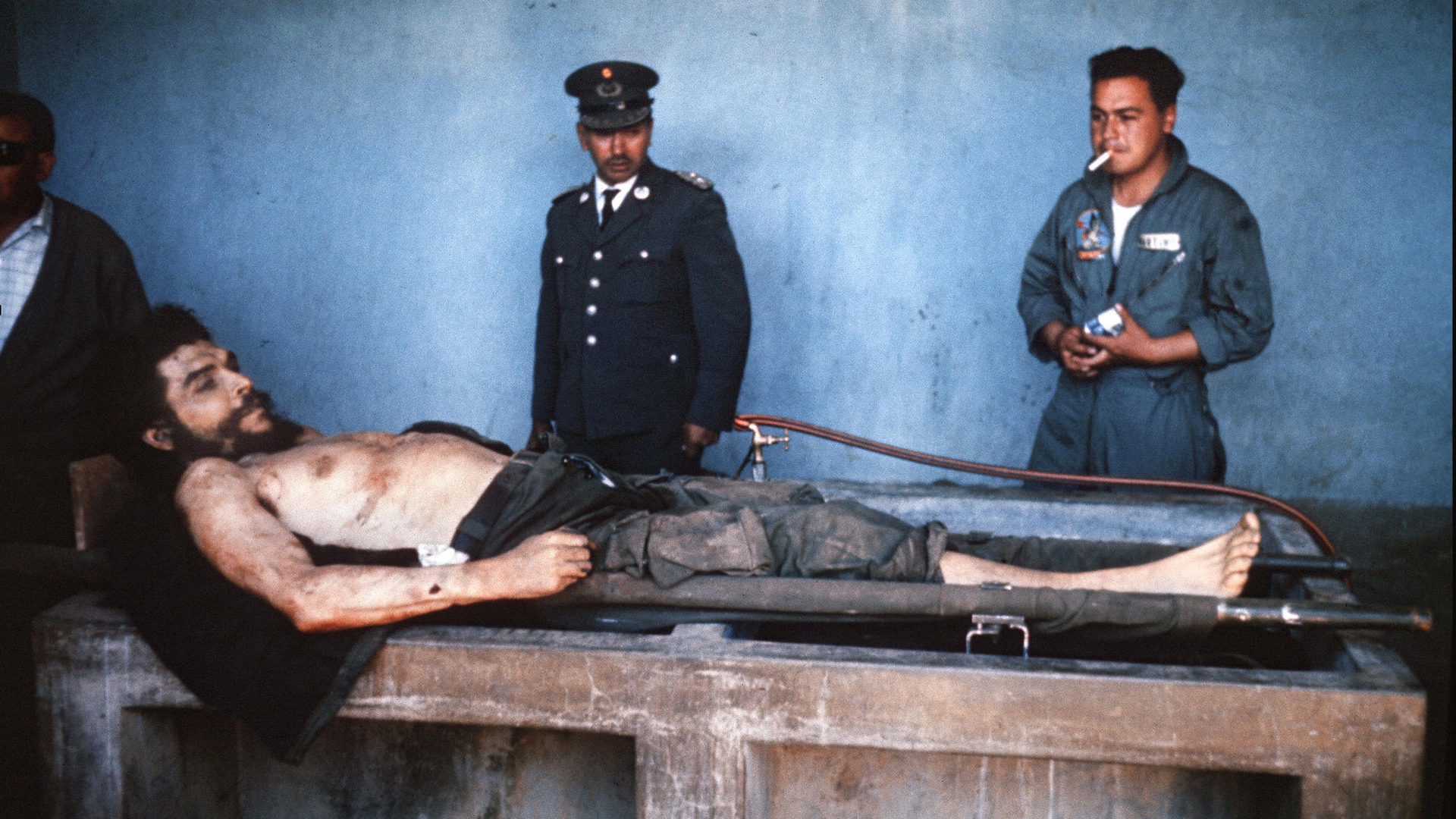 Later that morning on October 9, Bolivian President René Barrientos ordered that Guevara be killed. The order was relayed to the unit holding Guevara by Félix Rodríguez reportedly despite the United States government's desire that Guevara be taken to Panama for further interrogation. The executioner who volunteered to kill Guevara was Mario Terán, an alcoholic 27-year-old sergeant in the Bolivian army who had personally requested to shoot Guevara because three of his friends from B Company, all with the same first name of "Mario", had been killed in an earlier firefight with Guevara's band of guerrillas. To make the bullet wounds appear consistent with the story that the Bolivian government planned to release to the public, Félix Rodríguez ordered Terán not to shoot Guevara in the head, but to aim carefully to make it appear that Guevara had been killed in action during a clash with the Bolivian army. Gary Prado, the Bolivian captain in command of the army company that captured Guevara, said that the reasons Barrientos ordered the immediate execution of Guevara were so there would be no possibility for Guevara to escape from prison, and also so there would be no drama in regard to a public trial where adverse publicity might happen.
About 30 minutes before Guevara was killed, Félix Rodríguez attempted to question him about the whereabouts of other guerrilla fighters who were currently at large, but Guevara continued to remain silent. Rodríguez, assisted by a few Bolivian soldiers, helped Guevara to his feet and took him outside the hut to parade him before other Bolivian soldiers where he posed with Guevara for a photo opportunity where one soldier took a photograph of Rodríguez and other soldiers standing alongside Guevara. Afterwords, Rodríguez told Guevara that he was going to be executed. A little later, Guevara was asked by one of the Bolivian soldiers guarding him if he was thinking about his own immortality. "No," he replied, "
I'm thinking about the immortality of the revolution
."
A few minutes later, Sergeant Terán entered the hut to shoot him, whereupon Guevara reportedly spoke to Terán which were his last words: "I know you've come to kill me. Shoot, coward! You are only going to kill a man!" Terán hesitated, then pointed his self-loading M2 carbine at Guevara and opened fire, hitting him in the arms and legs. Then, as Guevara writhed on the ground, apparently biting one of his wrists to avoid crying out, Terán fired another burst, fatally wounding him in the chest. Guevara was pronounced dead at 1:10 pm local time according to Rodríguez.
In all, Guevara was shot nine times by Terán. This included five times in his legs, once in the right shoulder and arm, and once in the chest and throat.
Months earlier, during his last public declaration to the Tricontinental Conference, Guevara wrote his own epitaph, stating "
Wherever death may surprise us, let it be welcome, provided that this our battle cry may have reached some receptive ear and another hand may be extended to wield our weapons
."
After his execution, Guevara's body was lashed to the landing skids of a helicopter and flown to nearby Vallegrande, where photographs were taken of him lying on a concrete slab in the laundry room of the Nuestra Señora de Malta. His body was buried in an unmarked grave.
In 1997, Guevara's remains were found and sent back to Cuba, where they were reburied in a ceremony attended by President Fidel Castro and thousands of Cubans.